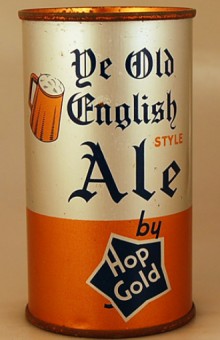 All Rights Reserved
Copyright © 2007 eBeerCans.com.
Hop Gold Ye Old English Style Ale
Star Brewery Company
Vancouver, WA
Can Type: Flat Top info
Can Class: Opening Instruction info
Can Contents: 12 oz
Scarcity: 9.0 = Very Rare info
Beverage Type: Ale
IRTP Info: IRTP
Year (best estimate): 1935-1940
Can Material: Steel
Paint Type: Enamel
American Can City Code:
90 - Salem, OR
Can Maker: American
Current Value (est.): $10,000 - $15,000
* Value is if can is in A1+ (near mint) condition. Value decreases significantly if and to the extent there are flaws.
Book Value: $900.00
Book#: USBC 083-19, USBC-OI 399 info
Remarks: The can shown is the best known example of this can. There is another variation of this can without the A.C.Co.90Ax under the small top replica can on the back. Dates to about 1937.