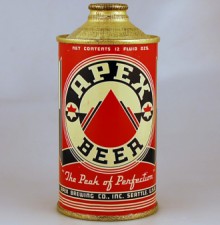 All Rights Reserved
Copyright © 2007 eBeerCans.com.
Apex Beer
Apex
Seattle, WA
Can Type: Cone Top info
Can Class: High Profile info
Can Contents: 12 oz
Scarcity: 9.5 = Very Rare info
Book#: USBC 150-19 info
Remarks: Likely best known example of this can. Under a handful of quality examples known.