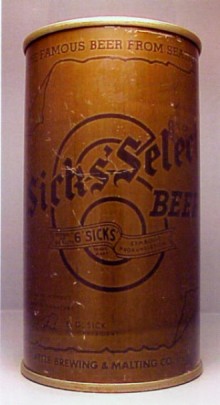 All Rights Reserved
Copyright © 2007 eBeerCans.com.
Sicks Select (Olive Drab)
Seattle Brewing & Malting Co.
Seattle, WA
Can Type: Flat Top info
Can Class: Opening Instruction info
Can Contents: 12 oz
Scarcity: 7.0 = Very Scarce info
Remarks: There is one other variation of this can. It is much scarcer. The majority of this variation were found as unrolled sheets and later rolled into cans.