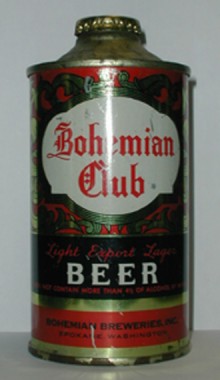 All Rights Reserved
Copyright © 2007 eBeerCans.com.
Bohemian Club Beer
Bohemian Breweries Inc.
Spokane, WA
Can Type: Cone Top info
Can Class: Low Profile info
Can Contents: 12 oz
Scarcity: 2.0 = Common info
Remarks: There are (3) minor variations of this conetop. They vary greatly in scarcity with this being the most common version. There is also a high profile conetop version that was produced in Boise, Idaho.