Beer Can Books

The only beer can reference book & price guide to feature over 90% of the known cone top and flat top
beer cans.
This hardcover book contains over 7300 beer cans in full color & 20+ pages of valuable collecting information.......
more

This is the first and only book dedicated to opening instruction beer cans. Over 880 instructional cans in full color. The highest quality book available in the hobby........... more
Not available in stores or from any publisher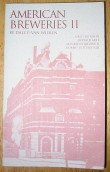 Here is the complete listing for all U.S. breweries past and present. This book features brewery names, addresses and dates from the 1800's to 1994. They are assigned reference numbers and listed by city and state. There are 1000's of defunct small town breweries............ more

This is the Supplement to the original USBC-OI
Master copy.
It features over 250 instructional beer cans in full color. The book contains updated information, addiitonal cans and historical data. It was published 2 years later to complete the Master copy.............
more