Do My Old Beer Cans Have Value?
Your old beer cans could each have a value of $5,000 or more
Recent beer can values vary widely due to the current 2009 economic environment.
Most flat top and cone top beer cans bring up to $500 but there are scarce beer cans
that advanced collectors will pay $1000+ for.
Maybe you found a can in your house while renovating. Do you know what it is worth?
My 25+ years experience in the hobby will establish a market value for your old beer cans.

Please submit the form below for your beer can appraisal

[VIEW RECENT EVALUATIONS ON THE BOTTOM OF THIS PAGE]

Billy Beer, Jr Ewing, Pittsburgh Steelers, Budweiser, Miller, Pabst & Schlitz beer can values can be found on the bottom left of this page.
This is not a solicitation to buy your beer can(s)
Your personal information will be used only to contact you with your appraisal. All images and personal information remain secure and will not be used for any other purpose.
Recent Flat Top & Cone Top
Beer Can Appraisals

This Columbia Extra Pale Beer can was produced in 1938-1939.
It was found in the ceiling of a house in Washington during a renovation after a fire.

The owner was originally offered a few $100 for the can. After my appraisal she refused the offer.

The can was eventually purchased privately for over $1000.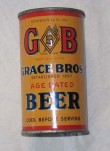 This GB Grace Bros Age Dated Beer can is circa 1936.
It was purchased in an West Coast antique shop many years ago.
After appraising the can I gave put the owner in contact with a few internet beer can dealers.


He returned to offer me the can.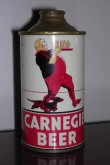 This scarce Carnegie Beer cone top beer can was found buy a carpenter while renovating a bathroom. He took the can home only to return with it later because he felt it may be valuable.

I appraised the can for the homeowner.


The can was sold to a dealer for $3000. The homeowner and carpenter split the money. It helped her pay for some of the renovations.

The Hillman's American Pride Export Beer pictured here is the only one in existence. The owner was known to have the can, but was reluctant to part with it.

I appraised the can as unique and open to establish a value.


I acted as a broker finding a private collector to purchase the can.
I received a small brokers fee.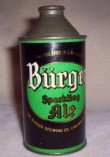 This Burger Sparkling Ale cone top belonged to a woman in Alabama.

After my appraisal I also gave her options available to sell the can, including information about how to sell on eBay.


She sold the can on eBay for over $800.