Cone Top Beer Cans
Cone top beer cans were the second type of beer can produced. They were introduced (September, 1935) as direct competition to the flat top beer can (January, 1935). 3 major can companies hoped the similarity to bottles would attract both breweries and beer drinkers alike. The metal shortages during World War II slowed the success of the cone top beer can and may have lead to its early demise. Over 50 years later the cone top beer can is a prize sought after by even the most advance beer can collectors.
Click for low profile cone top can photos
Low Profile Cone Top Cans

The low profile cone top design was first marketed by the Continental Can Co. in 1935. This was the very first cone top can design. It was most likely sold by the Jos. Schlitz Brewing Co. (but evidence may exist that the G. Heileman Brewing Co. marketed their low profile cone top before Schlitz). The earliest low profile cone tops had a flat bottom and the top had inverted ribs protruding around the cone. Later low profile cones changed to the concave bottom. Quart cone tops were also produced beginning in 1937 using a modified low profile design. The Continental Can Company continued to use the low profile design exclusively until World War II.
Click for j spout cone top can photos
J Spout Cone Tops Cans

In 1937 the Crown Cork & Seal Company introduced the J spout cone top. The thin neck of the can resembled a "J" and seemed more characteristic of a beer bottle neck. Over 35 breweries used this cone top design until it was discontinued by the start of World War II. Many breweries that chose this type of 12 oz. cone top never produced cone tops in any other package design.
Click for high profile cone top can photos
High Profile Cone Top Cans

The American Can Company became the third major cone top beer can producer in 1938 when they introduced the high profile cone top design. This design became the most widely accepted cone top beer can design and was one of only two cone top designs that remained after World War II. The last cone top ever produced was a high profile cone from the Rice Lake Brewing Co. of Wisconsin.
Click for crowntainer can photos
Crowntainer Cone Top Cans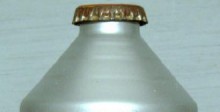 The crowntainer cone top beer can was designed by the Crown Cork & Seal Company. The cans were unique to this company and produced for over 70 different breweries from 1940 to the mid-1950's. The cans were short and compact in design. Brewery brand designs most often incorporated the silver metallic background into their label. The cans also used an all enamel white background. Overall more than 250 different designs were produced by breweries on crowntainers. There were approximately 25 different enamel cans produced and less than 10 olive drab crowntainers manufactured during World War II. Only 5 different bock beer crowntainers are known.
please e-mail me if you need more cone top beer can information