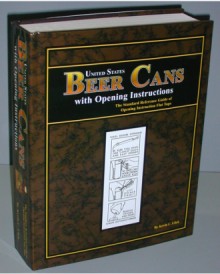 All Rights Reserved
Copyright © 2008 eBeerCans.com.
United States Beer Cans with Opening Instructions
by Kevin C. Lilek
Pub. Date: 2004 / hardcover
Pages: 909 pages / full color
Price: $84.50 (shipping included)
This book is not available in stores or through any publisher.
This beer can book is dedicated to opening instruction cans (1934 to 1950). It is the result of 25+ years of research by Kevin C. Lilek. The book contains 887 opening instruction (OI) beer cans photographed from all 3 sides, making it the only beer can book featuring side panel views. A description, production date and rarity rating accompany each can on its own page. Many of the rarest cans in the hobby were photographed for this book.
You won't find a higher quality book anywhere! It features a simulated leather cover containing high quality stock full color pages that measure over 2" thick with a total weight of almost 9 lbs. Whether you're reading the 14 page introduction or looking up the rarest of cans, you'll be glad you own a copy. I refer to mine all the time.
eBC has the limited supply of this book & it will not be published again.