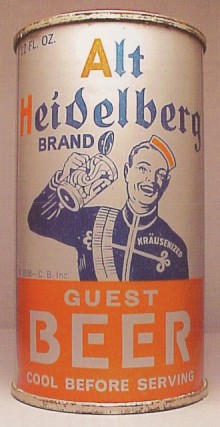 All Rights Reserved
Copyright © 2007 eBeerCans.com.
Alt Heidelberg
Columbia
Tacoma, WA
Can Type: Flat Top info
Can Class: Opening Instruction info
Can Contents: 12 oz
Scarcity: 9.0 = Very Rare info
Book#: USBC 030-12, USBC-OI 26 info
Remarks: "Alt Heidelberg Brand Pale Guest Beer. Circa: Early - Mid 1938. This American Can Company, 12 ounce container, lists 2 Pats.- Others Pending and was filled by Columbia Breweries Incorporated of Tacoma, Washington. Notice the added word "Brand" and the removal of the trademark from the face panel. The trademark and patent information are printed on the added far-right side panel. Note also, the Washington State permit number is no longer printed on the container. This exceptionally fine, Grade 1/1+ example, is one of only two quality examples known to the author, along with another six or so lesser condition example existing also. Rarity Rating: R-9/R-8." Reprinted with permission from Kevin C. Lilek.