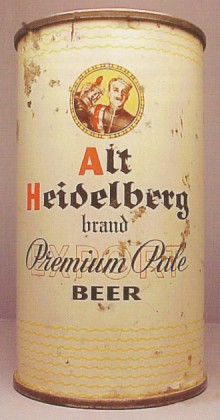 All Rights Reserved
Copyright © 2007 eBeerCans.com.
Alt Heidelberg
Columbia
Tacoma, WA
Can Type: Flat Top info
Can Class: Opening Instruction info
Can Contents: 12 oz
Scarcity: 7.0 = Very Scarce info
Book#: USBC NL, USBC-OI 28 info
Remarks: "Alt Heidelberg Brand Premium Pale Export Beer. Circa: Late 1938 - Early 1939. This American Can Company, 12 ounce container, lists 2 Pats.- Others Pending and was filled by Columbia Breweries, Incorporated of Tacoma, Washington. This is a similar package design as seen on the previous page (USBC-OI 27) with, however; the removal of the words "du feine", replaced by "brand" on the face panel; in an attempt to de-emphasized the Germanic heritage association following Germany's attacks on eastern Europe. Note also, the "Laboratory Control" paragraph remains on the left side panel. This Grade 2 example, is arguably the best of only fifteen examples known to the author, and a quality, Grade 1 example may not exist. Rarity Rating: R-7." Reprinted with permission from Kevin C. Lilek.