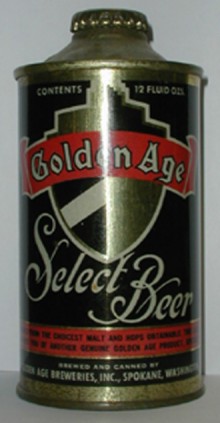 All Rights Reserved
Copyright © 2007 eBeerCans.com.
Golden Age Select Beer
Golden Age Breweries
Spokane, WA
Can Type: Flat Top info
Can Class: Low Profile info
Can Contents: 12 oz
Scarcity: 6.0 = Scarce info
Remarks: This is the only Select Beer conetop produced by this brewery. They also produced a similar Select Export can with a white background.