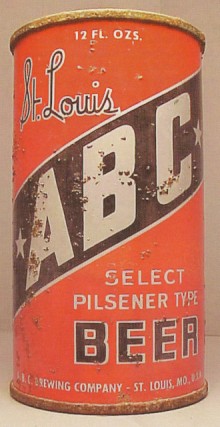 All Rights Reserved
Copyright © 2007 eBeerCans.com.
ABC
ABC
St. Louis, MO
Can Type: Flat Top info
Can Class: Opening Instruction info
Can Contents: 12 oz
Scarcity: 4.0 = Elusive info
Book#: USBC NL, USBC-OI 6 info
Remarks: "A B C St. Louis Select Pilsner Type Beer. Circa: 1938 - 1940. This American Can Company, 12 ounce container, lists 2 Pats.- Others Pending and was Brewed and Canned by A. B. C. Brewing Company of St. Louis, Missouri, U. S. A. This is the same package design as seen on the previous page (USBC-OI 5) with, however; what appears to be a dull-gray enamel finish. This is one of several examples known to the author that have been unearthed and consequently altered by underground effects. The A. B. C. Brewing Company closed in 1940, before World War II paint restrictions were issued, and never had this paint scheme produced for their packaging. Since every example known is below Grade 1 condition, including this Grade 2 example, the assigned rarity rating follows that of the previous page's (USBC-OI 5) second rating. Rarity Rating: R-4." Reprinted with permission from Kevin C. Lilek.