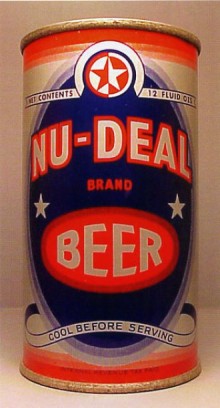 All Rights Reserved
Copyright © 2007 eBeerCans.com.
Nu Deal Brand Beer
Grace Bros. Brewing Co.
Santa Rosa, CA
Can Type: Flat Top info
Can Class: Opening Instruction info
Can Contents: 12 oz
Scarcity: 9.0 = Very Rare info
Remarks: There is one other minor variation of this can. It features the U-Perit # above the star.