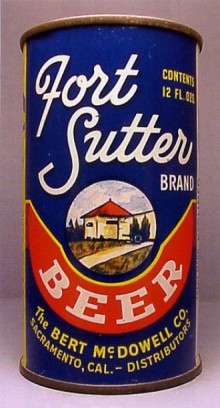 All Rights Reserved
Copyright © 2007 eBeerCans.com.
Fort Sutter Brand Beer
Grace Bros. Brewing Co.
Santa Rosa, CA
Can Type: Flat Top info
Can Class: Opening Instruction info
Can Contents: 12 oz
Scarcity: 10.0 = Unique info
Remarks: There is one other version of this can that is much more common. The version shown here uses green color on the shrubs and lawn. This can is believed to be the only quality example of this version.