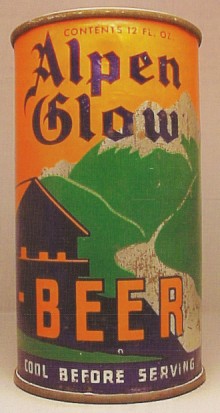 All Rights Reserved
Copyright © 2007 eBeerCans.com.
Alpen Glow
San Francisco
San Francisco, CA
Can Type: Flat Top info
Can Class: Opening Instruction info
Can Contents: 12 oz
Scarcity: 8.0 = Rare info
Book#: USBC 029-36, USBC-OI 22 info
Remarks: "Alpen Glow Beer. Circa: Early - Mid 1937. This American Can Company, 12 ounce container, lists Patents Pending and was Packed at Brewery Especially for General Enterprise Company of San Francisco, California by San Francisco Brewing Corporation of San Francisco, California. This is the same package design as seen on the previous page (USBC-OI 21) with, however; the metallic finish. This Grade 2 example is the best of only seven examples known to the author, and a quality, Grade 1 example may not exist. Rarity Rating: R-8." Reprinted with permission from Kevin C. Lilek.