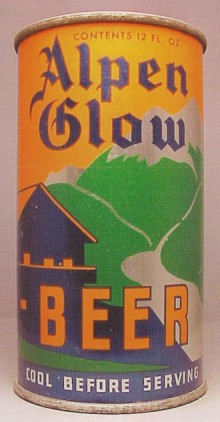 All Rights Reserved
Copyright © 2007 eBeerCans.com.
Alpen Glow
San Francisco
San Francisco, CA
Can Type: Flat Top info
Can Class: Opening Instruction info
Can Contents: 12 oz
Scarcity: 10.0 = Unique info
Book#: USBC NL, USBC-OI 23 info
Remarks: "Alpen Glow Beer. Circa: Mid 1937 - Early 1938. This American Can Company, 12 ounce container, lists 2 Pats.- Others Pending and was Packed at Brewery Especially for General Enterprise Company of San Francisco, California; by San Francisco Brewing Corporation of San Francisco, California. This is a similar package design as seen on the previous page (USBC-OI 22) with, however; the differing patent information and the California State permit number is no longer printed on the container. This exceptionally fine, Grade 1/1+ example, is the only quality example known to the author, and only a few other lesser condition examples exist, with the best of those being in Grade 1- condition. Rarity Rating: R-10/R-9." Reprinted with permission from Kevin C. Lilek.