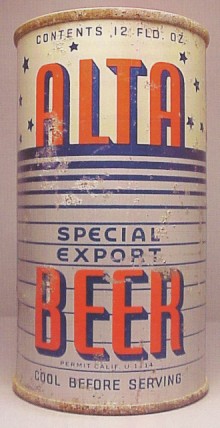 All Rights Reserved
Copyright © 2007 eBeerCans.com.
Alta
Grace Bros.
Santa Rosa, CA
Can Type: Flat Top info
Can Class: Opening Instruction info
Can Contents: 12 oz
Scarcity: 10.0 = Unique info
Book#: USBC L 032-22, USBC-OI 33 info
Remarks: "Alta Special Export Beer. Circa: Early 1937. This American Can Company, 12 ounce container, lists Patents Pending and was filled by Grace Brothers Brewery, Limited of Los Angeles, California. This is the same package design as seen on the previous page (USBC-OI 32) with, however; the blue blocked boxes on both side panels covering the Grace Brothers Brewing Company of Santa Rosa, California information. Notice the California State permit number "Permit Calif. U-1114" printed above "Cool Before Serving", on the face panel. In 1937, the Los Angeles based brewery was opened to increase beer production by the Grace Brothers. It's rumored that the brothers argued about the business so they separated themselves by managing different plants, fostering a bit more harmony between the siblings. The Alta Beer Brand was one of the first to be transferred to the Los Angeles brewery for all future production. This Grade 3 example is the only example known to the author, and is believed to be unique. Rarity Rating: R-10." Reprinted with permission from Kevin C. Lilek.