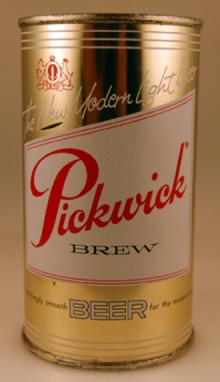 All Rights Reserved
Copyright © 2007 eBeerCans.com.
Pickwick Beer
Haffenreffer Brewing Co.
Boston, MA
Can Type: Flat Top info
Can Class: Unknown info
Can Contents: 12 oz
Scarcity: 5.0 = Very Elusive info
IRTP Info: Non-IRTP
Remarks: The gold metallic background of this can is very condition sensitive and hard to find in pristine condition. Most examples are offgrade with humidity spotting.