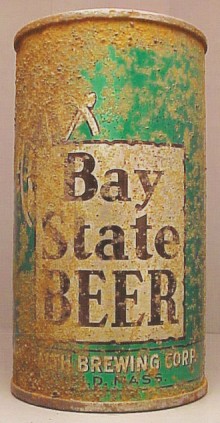 All Rights Reserved
Copyright © 2007 eBeerCans.com.
Bay State
Commonwealth
Springfield, MA
Can Type: Flat Top info
Can Class: Opening Instruction info
Can Contents: 12 oz
Scarcity: 10.0 = Unique info
Book#: USBC L 035-19, USBC-OI 89 info
Remarks: "Bay State Beer. Circa: 1941. This National Can Corporation, 12 ounce container, lists Patents Pending, and was filled by Commonwealth Brewing Corporation of Springfield, Massachusetts; with New York Distributor Commonwealth Brewing Corp. at 5 Harrison St., in New York City. This is the same package design as seen on the previous page (USBC-OI 88) with, however; the added New York Distributor information on the right side panel, along with the phrase "Result: A True Bay State Beer", no longer underlined. This Grade 4 example is the only one known to the author, and is believed to be unique. Rarity Rating: R-10." Reprinted with permission from Kevin C. Lilek.