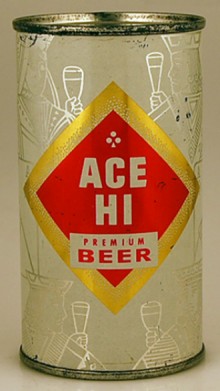 All Rights Reserved
Copyright © 2007 eBeerCans.com.
Ace High Beer
Ace Hi Brewing Co.
Chicago, IL
Can Type: Flat Top info
Can Class: Unknown info
Can Contents: 12 oz
Scarcity: 1.0 = Abundant info
IRTP Info: Non-IRTP
Remarks: This can was produced by the Canadian Ace Brewing Co. under an alias used from 1958-1962. This is the metallic version, there is also an enamel version.