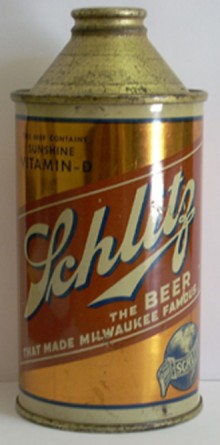 All Rights Reserved
Copyright © 2007 eBeerCans.com.
Schlitz Vitamin D Beer
Schlitz (Jos.) Brewing Co.
Milwaukee, WI
Can Type: Cone Top info
Can Class: High Profile info
Can Contents: 12 oz
Scarcity: 2.0 = Common info
Remarks: The top left of this label has small text referring to Vitamin D. An early label design featured much larger text. The Vitamin D reference was eventually made illegal.