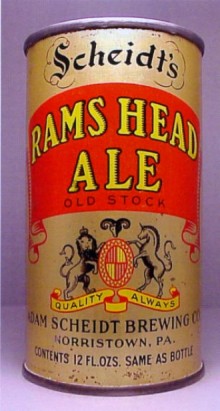 All Rights Reserved
Copyright © 2007 eBeerCans.com.
Scheidts Rams Head Ale
Scheidt (Adam) Brewing Co.
Norristown, PA
Can Type: Flat Top info
Can Class: Opening Instruction info
Can Contents: 12 oz
Scarcity: 8.0 = Rare info
Remarks: There are numerous versions of this can. This is one of the scarcer versions as it features the black outline on the "RAMS HEAD ALE" text as well as the black for the "OLD STOCK" text.