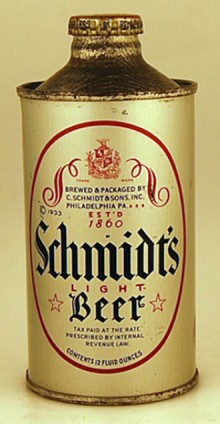 All Rights Reserved
Copyright © 2007 eBeerCans.com.
Schmidts Light Beer
Schmidt (C.) & Sons
Philadelphia, PA
Can Type: Cone Top info
Can Class: J Spout info
Can Contents: 12 oz
Scarcity: 3.0 = Available info
Remarks: This can was produced in both a dull gray high profile cone top and bright gray J spout version. This is the bright gray version and it is scarcer.