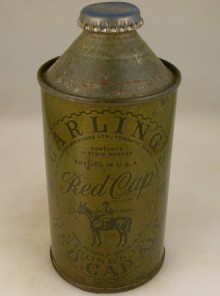 All Rights Reserved
Copyright © 2007 eBeerCans.com.
Carlings Red Cap Ale (Olive Drab)
Carlings Inc.
Cleveland, OH
Can Type: Cone Top info
Can Class: High Profile info
Can Contents: 12 oz
Scarcity: 5.0 = Very Elusive info
Remarks: This is one of (2) versions of this olive drab conetop can produced during World War II. The other can was brewed and filled by the Brewing Corporation of America of Cleveland, Ohio.