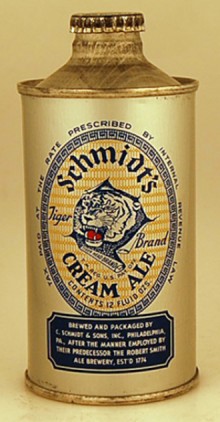 All Rights Reserved
Copyright © 2007 eBeerCans.com.
Schmidts Tiger Brand Cream Ale
Schmidt (C.) & Sons
Philadelphia, PA
Can Type: Cone Top info
Can Class: J Spout info
Can Contents: 12 oz
Scarcity: 3.0 = Available info
Remarks: There is another similar version of this J spout cone top. The difference can be found in the text located in the bottom blue box.