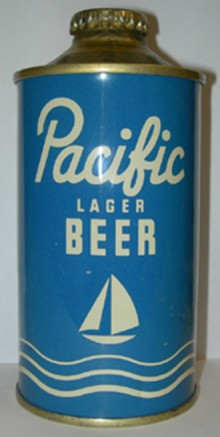 All Rights Reserved
Copyright © 2007 eBeerCans.com.
Pacific Lager Beer
Rainier Brewing Co.
San Francisco, CA
Can Type: Cone Top info
Can Class: Low Profile info
Can Contents: 12 oz
Scarcity: 6.0 = Scarce info
Remarks: There are (2) versions of this can. This is the scarcer version featuring an all blue background. There is a more common version with a green background behind the waves and black outline around the text and boat.