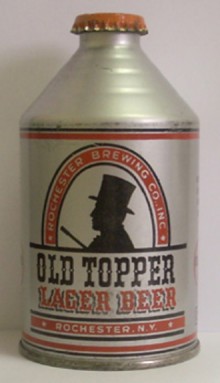 All Rights Reserved
Copyright © 2007 eBeerCans.com.
Old Topper Lager Beer
Rochester Brewing Co.
Rochester, NY
Can Type: Cone Top info
Can Class: Crowntainer info
Can Contents: 12 oz
Scarcity: 2.0 = Common info
Book#: USBC 198-01 info
Remarks: This is the most common of the (3) different Lager Beer crowntainers. The other (2) label designs are much scarcer.