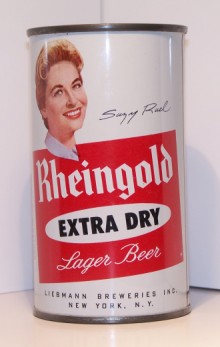 All Rights Reserved
Copyright © 2007 eBeerCans.com.
Miss Rheingold Kathleen Wallace
Liebmann Breweries Inc.
New York, NY
Can Type: Flat Top info
Can Class: Unknown info
Can Contents: 12 oz
Scarcity: 5.0 = Very Elusive info
IRTP Info: Non-IRTP
Remarks: This can is one of (7) from the 1957 Miss Rheingold contest. There are (6) different girls plus the can featuring the winner. The cans were also brewed and filled in Orange,NJ.