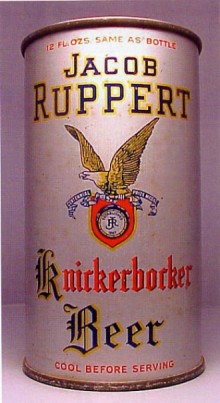 All Rights Reserved
Copyright © 2007 eBeerCans.com.
Jacob Ruppert Knickerbocker Beer
Ruppert (Jacob)
New York, NY
Can Type: Flat Top info
Can Class: Opening Instruction info
Can Contents: 12 oz
Scarcity: 7.0 = Very Scarce info
Remarks: The less common variation of this can does not include the text "12 FL. OZS. SAME AS BOTTLE".