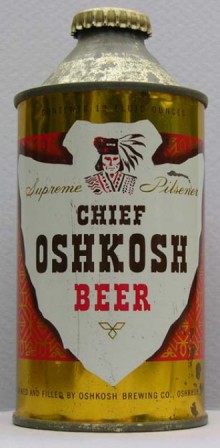 All Rights Reserved
Copyright © 2007 eBeerCans.com.
Chief Oskosh Beer
Oshkosh Brewing Co.
Oshkosh, WI
Can Type: Cone Top info
Can Class: High Profile info
Can Contents: 12 oz
Scarcity: 3.0 = Available info
Remarks: This is the only version of this can. The Oshkosh Brewing Co. also produced (2) different crowntainer conetops.