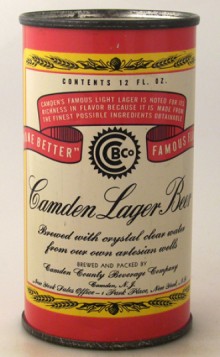 All Rights Reserved
Copyright © 2007 eBeerCans.com.
Camden Lager
Camden County Beverage Co.
Camden, NJ
Can Type: Flat Top info
Can Class: Non-Opening Instruction info
Can Contents: 12 oz
Scarcity: 5.4 = Scarce info
Beverage Type: Beer
IRTP Info: Non-IRTP
Year (best estimate): 1950s
Can Material: Steel
Paint Type: Enamel
Continental Can City Code:
16 - Baltimore
Can Maker: Continental
Current Value (est.): $100 - $500
* Value is if can is in A1+ (near mint) condition. Value decreases significantly if and to the extent there are flaws.
Book Value: $55.00
Book#: USBC 047-39 info