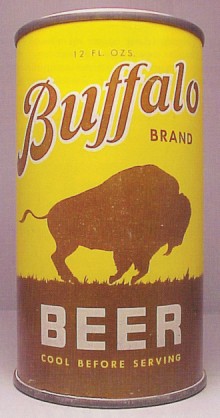 All Rights Reserved
Copyright © 2007 eBeerCans.com.
Buffalo
Buffalo
Sacramento, CA
Can Type: Flat Top info
Can Class: Opening Instruction info
Can Contents: 12 oz
Scarcity: 10.0 = Unique info
Book#: USBC 045-09, USBC-OI 165 info
Remarks: "Buffalo Brand Beer. Circa: 1937. This American Can Company, 12 ounce container, lists Patents Pending and was filled by Buffalo Brewing Company of Sacramento, California. This is the same package design as seen on the previous page (USBC-OI 164) with, however; the "Withdrawn Free of Internal Revenue Tax for Exportation" statement, printed at the bottom of the right side panel. This exceptionally fine, Grade 1/1+ example is one of only three known to the author, and the other two are in very poor condition. Rarity Rating: R-10/R-9." Reprinted with permission from Kevin C. Lilek.