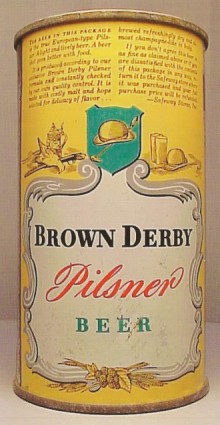 All Rights Reserved
Copyright © 2007 eBeerCans.com.
Brown Derby
Salem
Salem, OR
Can Type: Flat Top info
Can Class: Opening Instruction info
Can Contents: 12 oz
Scarcity: 5.0 = Very Elusive info
Book#: USBC 042-32, USBC-OI 137 info
Remarks: "Brown Derby Pilsner Beer. Circa: 1940 - Early 1942. This American Can Company, 12 ounce container, lists 2 Pats.- Others Pending and was Brewed and Packaged by Salem Brewery Association of Salem, Oregon. This is the same package design as seen on the previous page (USBC-OI 136) with, however; the differing brewing company. Although this Grade 1- example is represented, there are many quality examples known to the author. Rarity Rating: R-5/R-1." Reprinted with permission from Kevin C. Lilek.