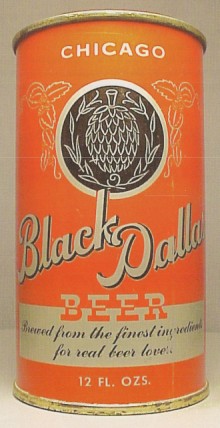 All Rights Reserved
Copyright © 2007 eBeerCans.com.
Black Dallas
Manhattan
Chicago, IL
Can Type: Flat Top info
Can Class: Opening Instruction info
Can Contents: 12 oz
Scarcity: 9.0 = Very Rare info
Book#: USBC 037-15, USBC-OI 114 info
Remarks: "Black Dallas Beer. Circa: Early 1939 - 1940. This American Can Company, 12 ounce container, lists 2 Pats.- Others Pending and was Brewed and Packed by Manhattan Brewing Company of Chicago, Illinois. Notice there are no blackened panels on this container. New cans were finally printed to show Manhattan Brewing Company's ownership of the Black Dallas Beer brand. This can is one of the several different, singular, can varieties from the legendary collection of a bar owner from Chicago who's bar was across the street from American Can Company. The owner offered a free beer to anyone who gave him a beer can, and American Can Co. employees took him up on his offer. This can is scribed "Order #9231 June 1940", near the bottom of the right side panel, and is believed to have been run through the canning line for quality control purposes. This Grade 1/1+ example is one of only four quality examples known to the author, along with another seven lesser condition examples existing also. Rarity Rating: R-9/R-8." Reprinted with permission from Kevin C. Lilek.