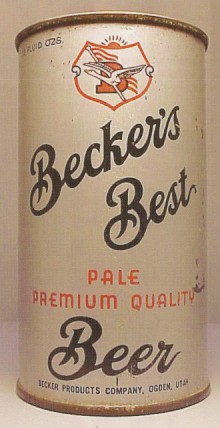 All Rights Reserved
Copyright © 2007 eBeerCans.com.
Beckers
Becker Products
Ogden, UT
Can Type: Flat Top info
Can Class: Opening Instruction info
Can Contents: 12 oz
Scarcity: 9.0 = Very Rare info
Book#: USBC L 035-25, USBC-OI 99 info
Remarks: "Becker's Best Pale Premium Quality Beer. Circa: Late 1949 -Early 1950. This Pacific Can Company, 12 ounce container, lists no patent information and was filled by Becker Products Company of Ogden, Utah. In late 1949, Becker Products Company negotiated a contract with Pacific Can Company to manufacture packaging for their brews. This short lived container, displaying the trademark "Kan Kegs", near the bottom of the right side panel, marked the final opening instruction container for the company, which stopped using these cans by the end of February 1950. Although this Grade 1- example is represented, there are at least three quality examples known to the author, along with eight or so slightly lesser condition examples existing also. Rarity Rating: R-9/R-8." Reprinted with permission from Kevin C. Lilek.