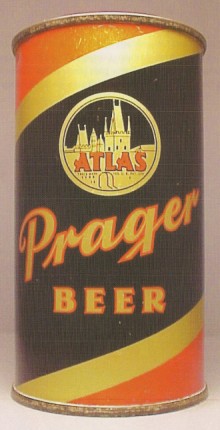 All Rights Reserved
Copyright © 2007 eBeerCans.com.
Atlas
Atlas
Chicago, IL
Can Type: Flat Top info
Can Class: Opening Instruction info
Can Contents: 12 oz
Scarcity: 8.0 = Rare info
Book#: USBC 032-18, USBC-OI 50 info
Remarks: "Atlas Prager Beer. Circa: 1936 - Early 1937. This American Can Company, 12 ounce container, lists Patents Pending and was filled by Atlas Brewing Company of Chicago, Illinois. Notice the circular Atlas logo printed on the face panel with golden buildings against a black sky, and the word "Atlas" printed in red within. Note also, as was done on the Apollo Beer Package design, the oval text and opening instruction panels, used on this package design. This package has an enamel finish. This Grade 1/1+ example is one of only nine quality examples known to the author. Rarity Rating: R-8/R-6." Reprinted with permission from Kevin C. Lilek.