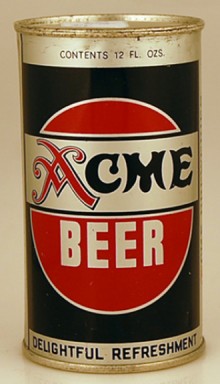 All Rights Reserved
Copyright © 2007 eBeerCans.com.
Acme Beer
Acme Breweries
Los Angeles, CA
Can Type: Flat Top info
Can Class: Unknown info
Can Contents: 12 oz
Scarcity: 1.0 = Abundant info
IRTP Info: IRTP
Remarks: This can was produced in (3) different versions. The difference can be found in the text across the bottom. This version features the text:"Delightful Refreshment". The second version reads across the top:"Non-Fattening Refreshment". The third version reads across the top:"Dietetically Non- Fattening".